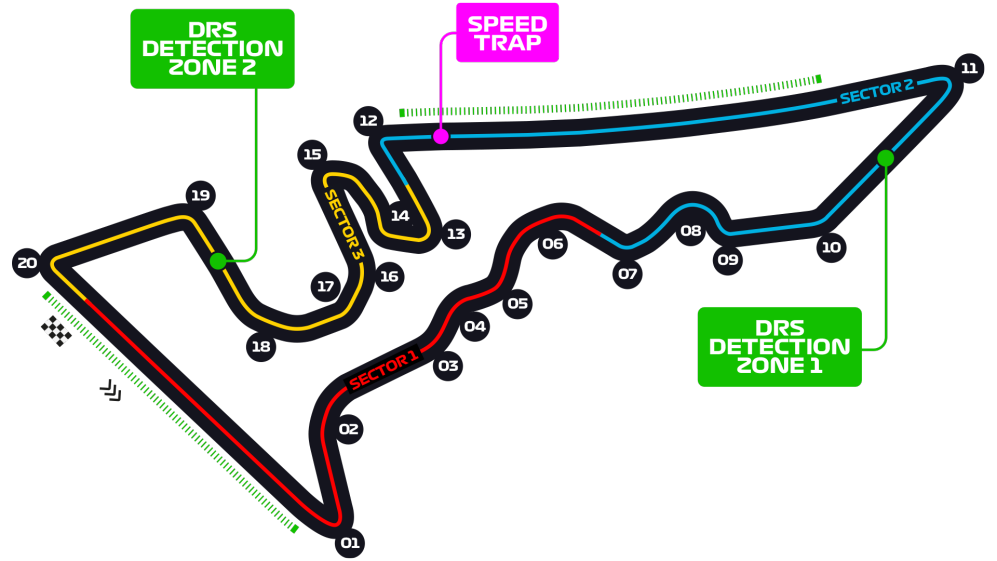 F1 Miami Track
Get up to speed with everything you need to know about the Formula 1 race track in Miami, US, known as the Formula 1 Crypto.com Miami Grand Prix.
About F1 Miami
The first Miami Grand Prix took place in 2022, with this circuit resulting in an extremely exciting Sunday race day, including the occurrence of a safety car that lead to some interesting pit strategies.
Miami was the second US circuit to be included in the 2022 calendar, along with Austin, Texas, and is also the 11th American venue to host an F1 race.
The Miami track surface is considered to be an innovative design, making use of a lime rock and granite mix, which delivered a very high grip for the tires. It must be noted that some drivers complained about the track being very dirty once they moved off the racing line.
The track was resurfaced twice before the inaugural race, which was an important aspect of the weekend, as drivers making mistakes could slip on an uneven track surface.
Where is the Miami Track?
The Miami track is situated at the Miami International Autodrome, in the Hard Rock Stadium complex in the world-renowned Miami Gardens. See all F1 tracks.
This is the first F1 circuit that was designed along with the FIA, and after 36 different layouts were discussed, the final apex circuit design was settled on.
Miami Track Statistics
This track has been dubbed a street circuit, although it is not quite the same as some other street circuits like Monaco. It is considered a temporary circuit, although it will have a permanent home at the Hard Rock Stadium.
Length
Each lap is 3.362 miles (5.412 km) long, and drivers will drive 57 laps to complete a total distance of 191.584 miles (308.326 km).
Corners
Let's take a closer look at the cornering sequences.
Turn 1
Turn 1 is a slow right-hand corner, but is a crucial corner after the start of the race. Confident drivers are able to take the turn wide to approach Turn 2 at top speeds. Drivers who take different lines have the potential to overtake here.
Turns 2 and 3
Turn2 two is a full-speed, flat-out corner. The same goes for Turn 3, as it is a long corner that can be taken at full throttle, especially later in the race once more rubber has been laid on the track and there is more grip.
Turns 4 – 8
This turning sequence poses a good challenge to the drivers. The turns start off fast but get slower as the drivers progress to Turn 5.
Turn 4 is the fastest real corner on the track with a slight left-hand turn. They are still very speedy through Turn 5 as well, but the drivers need to perfectly position their cars coming into Turn 6.
Turns 6 and 7 are considered the toughest section of the track. Drivers enter at top speeds but have to slow down as Turn 7 tightens at the apex.
Turns 8 – 11
The car must be perfectly positioned into Turn 8 as it is followed by a long straight and DRS zone. Top speeds are reached here, which means Turns 9 and 10 are also taken at full throttle. This is a great overtaking spot until the hairpin corner at Turn 11 where brakes are applied.
Turns 12 – 16
Turns 12 to 16 are very complicated and taken at a low speed. Turn 12 is a particularly tight and long corner, and front-left tires will take a beating here.
The key aspect of this turning sequence is to position the car for the chicane at Turns 14 and 15. These corners have high curbs and is a narrow part of the track. This is made more complicated by the elevation change.
The exit out of Turn 16 is very important as it leads into the back straight with a DRS zone.
Turn 17
The back straight is incredibly long and allows cars to reach top speeds and overtake. This straight is an important part of the track as it allows drivers to consult with their engineers and determine their strategy.
Turn 17 is a large breaking zone after the long straight.
Turns 18 and 19
The final two turns are flat-out again, and this turning sequence makes for good racing as drivers speed towards the start-finish straight. The pit lane entrance is located at Turn 18.
The Start-Finish straight
This is the shortest of the three DRS zones and is not as great of an overtaking area as the other two straights.
Top Speed
Drivers can reach a top speed of 198.83 mph (320 km/h). In 2022, the fastest lap was achieved by Red Bull Racing's Max Verstappen, who did a lap time of 1:31:361 during Sunday's race.
DRS Zones and Straights
The track has three DRS zones on the three straights.
How Does The F1 Miami Track Compare To Other Tracks?
Miami is a unique track. It is constructed in the Hard Rock Stadium parking lot. It is not quite a parking lot track, but also not a street circuit – it is something in between.
This track is also not a permanent or temporary circuit – although the race will occur on this track for ten years, the track surface is removed after the race so that the property can once again be used for parking and other sports. That means once the race is completed, you cannot see the track anymore – until the next race when it is all set up again.
Miami has a challenging track, with straights similar to Baku, and fast corners reminiscent of Silverstone.
FAQs
For how many years will Miami be part of the F1 calendar?
Miami was first included in the 2022 F1 calendar, and this event has a 10-year contract.
Will there be a Miami GP in 2023?
Yes, the dates have been confirmed, and the 2023 Miami Grand Prix will occur on May 5 to May 7, 2023.
Final Thoughts
There you have it! The Miami GP is an exciting addition to the F1 calendar, and it will be interesting to see how this Grand Prix circuit continues to challenge drivers for many years.