How Much Do Formula 1 Drivers Make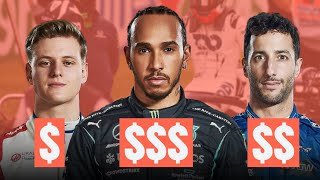 Without a doubt, F1 drivers are known to earn a lot, both in terms of glory and money. It makes us fans wonder: how much do Formula 1 drivers make?
Formula 1 drivers can make anything from around 40 million dollars to 750,000 dollars. This huge range in salaries depends on the driver's achievements, of course, as well as other factors that come into play.
In this brief guide, we'll dive deeper into the specifics of F1 driver earnings, the salaries of the top five drivers, and more.
How Much Do the Top 5 Formula 1 Drivers Make?
There's no way we'll know for sure the exact salaries of pro drivers like Max Verstappen or Lewis Hamilton; these are guarded secrets!
Still, experts have estimated that Lewis Hamilton's salary has reached around $40 million in 2022— he's the highest-paid F1 driver of the year.
If you're curious about the amount of money that the following F1 drivers took this year, this section has got your back! Here's a quick breakdown of the top five drivers' salaries along with some details about them.
Remember that the following numbers are only estimations of F1 2022 salaries.
1. Lewis Hamilton ($40 Million)
Team: Mercedes
Car number: 44
Most recent win: 2021 Saudi Arabian Grand Prix
From: The United Kingdom
As we've previously mentioned, Lewis Hamilton kicks off our list with a roaring 40 million bucks this year. This only makes sense because the 37-year-old is close to a legend now.
Winning the F1 record for career race victories and tying with Michael Schumacher for the most number of won championships, which is seven, simply does it for an F1 driver!
2. Max Verstappen ($25 Million)
Team: Red Bull
Car number: 1
Most recent win: 2022 Saudi Arabian Grand Prix
From: Belgium
Next up, we've got Max Verstappen, whose 25-million-dollar salary is also a cause for awe. While there's a huge difference between his earnings and those of Lewis Hamilton, his salary only goes hand-in-hand with his achievements and position.
First off, he's the first-ever Dutch driver to win Formula 1, which he sealed in 2021. More interestingly, you'll definitely like to know that his salary has grown a whopping five million dollars over the previous years.
Who knows, maybe he'll keep winning championships until he beats Lewis Hamilton's 40 million at this rate!
3. Fernando Alonso ($20 Million)
Team: Alpine
Car number: 14
Most recent win: 2013 Spanish Grand Prix
From: Spain
The 40-year-old Spanish driver is without a doubt an F1 veteran, but this year, his salary wasn't as big as it was once before. Reportedly, Alonso's earnings used to be around $33 million, but that was when he played as part of the McLaren team.
Remarkably, the driver won the F1 twice, in 2005 and 2006. If he makes a comeback, you can only expect his salary to skyrocket once again!
4. Lando Norris ($20 Million)
Team: McLaren
Car number: 4
Most recent entry: 2022 Emilia Romagna Grand Prix
From: The United Kingdom
A star in the making, Lando Norris is in fourth place with a huge salary of $20 million. What's even more surprising is that the driver hasn't won any championships yet, but he's scored some serious points for the McLaren team.
Because of his unmatched racing skills and quick rate of improvement, his contract with the team has been extended to 2025.
5. Sebastian Vettel ($15 Million)
Team: Aston Martin
Car number: 5
Most recent win: 2019 Singapore Grand Prix
From: Germany
Last but not least, we've got Sebastian Vettel, who's allegedly taken home 15 million bucks this year alone. The F1 driver has won four world championships, and he's previously driven for several teams before Aston Martin, including BMW Sauber, Toro Rosso, Red Bull, and Ferrari.
The F1 star has had a decrease in salary this year after he left Ferrari, not to mention that he missed the first two races of the 2022 season because he got COVID-19. If it weren't for these two events, Vettel might've earned a larger sum.
What Makes Up Formula 1 Driver Earnings?
Everyone knows that the F1 racing world is full of riches, so it makes sense for the best drivers to get paid in millions, right?
Well, that's not wrong, it's just that the earnings of F1 drivers aren't calculated so easily. In fact, the major part of those earnings is based on performance. A driver could score zero points for a couple of years, then do a great job a year after, and his salary will suddenly skyrocket!
Plus, the yearly salaries of F1 drivers are made up of more than their earnings after scoring points or winning. Brand deals, team deals, merchandise, and other investments are all taken into account.
To make the picture clearer, keep in mind that Lewis Hamilton has business investments here and there, plus a collaboration with other athletes to bid on the Chelsea Football Club. On second thought, earning $40 million doesn't sound so far-fetched now, ha?
Who's the Richest F1 Driver So Far?
Even with such a huge salary, Lewis Hamilton isn't even close to being the richest Formula 1 driver, at least not yet!
The title of the richest F1 driver ever still belongs to the legendary Michael Schumacher. In fact, he's one of the highest-paid sportspeople of all time, with total earnings of one billion dollars.
The German driver has dominated the F1 field in the 2000s, and he's set the highest records for most championships won: seven.
Final Thoughts
Everyone interested in the motor-racing world has asked how much Formula 1 drivers make at least once. The answer can vary greatly, from an insane 40 million bucks all the way to 750,000 dollars.
However, the earnings of F1 drivers don't consist of win rewards alone; they're also made up of different deals, private investments, and more.
After reading our article, we hope you finally have the full picture of Formula 1 driver earnings!