How do F1 Teams Make Money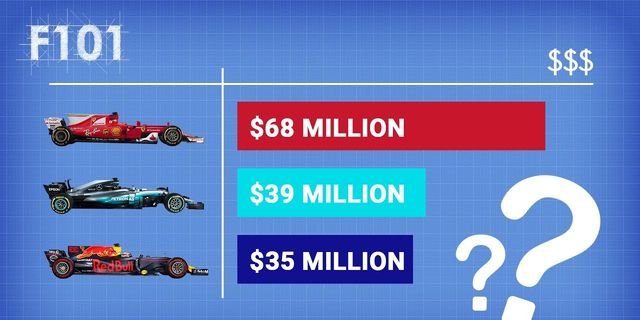 Formula One is a vast industry, and F1 teams are essentially the businesses within this industry – a vital part of the Grand Prix.
With race-car development and manufacturing costing millions of dollars (see how much Formula cars cost), you might be wondering if the Formula One teams make money, and if so, how?
Well, yes, F1 teams do make money, with larger teams making a profit of around $10-20 million in 2021, while the eight remaining teams broke even or made a slight loss.
With so many expenses to participate in this race, how do these high-spending sports teams make any money? Read on to find out!
How F1 Teams Make Their Money
There are four main ways in which each racing team earns an income:
Formula One Management (FOM) Payments
Sponsorship money and partnerships
Investment from car manufacturers
"Pay to Play" drivers
There may be some other sources of income or bonuses, but these are the main revenue streams for racing teams.
Formula One Management Payments
Formula One Management (FOM) payments are the most significant source of income. There are five categories of this type of income:
Each team gets paid $36 million across two seasons. This payment is called the Division One Payment. All the teams classified for the past two seasons get this money.
The winning team from the previous season will earn prize money. Mercedes earned $61 million for taking home the Constructors Championship, while Williams earned $13 million for finishing in last place.
Thirdly, there is the money awarded to the Long-Standing Team or LST. This money is also called the Ferrari Budget tongue-in-cheek, as this team is the only team to win, having been involved in F1 racing for more than 60 years. It currently stands at $68 million.
The Constructors Championship Bonus is a bonus paid to teams who have won several World Championship titles. It stands at $35 million and has been paid to Mercedes, Ferrari, Red Bull, and McLaren.
Lastly, there are bonus payments: the heritage payment ($10 million to Williams; $35 million to Ferrari); the bonus paid to the first team who signed the newest Concord Agreement ($36 million to Red Bull); and Mercedes received $35 million as the team stuck to their promise of claiming two World Championships titles.
Sponsorship deals
Sponsors can contribute anywhere from $500,000 to $50 million just to have their sponsor logos emblazoned on the cars.
Sponsorship of F1 sports teams began in 1968 when Lotus took to the track with the Imperial Tobacco logo.
Companies that pay more sponsorship costs can expect their logos to be front and center, while smaller sponsors may have their logos in more obscure places.
The winning teams that have performed well in the past few years get many more sponsorships, as they have more airtime on television – a great bonus on top of their prize money.
Teams or drivers with bad reputations will not get many sponsorship offers.
It is rumored that Petronas has paid around $42 million for their partnership with Mercedes, while Oracle paid around $300 million for a 5-year partnership with Red Bull Racing.
Interestingly, there are a few teams that are privately owned. These independent teams still rely on sponsorships, but the team owners also own the title sponsor companies.
Investment from car manufacturers
The parent company of an F1 team, the car manufacturer, or shareholders will also contribute money to the team.
Car companies use F1 to market their vehicles – if a car performs well, people will associate the brand with success and may be more likely to purchase it.
As some teams are larger or more successful, some parent companies can pay more money to the teams than others.
For example, Mercedes received a whopping $80 million from parent company Dalmier in 2019, while a smaller team like Racing Point (now Aston Marin) got a third of that.
Constructors can also generate income from selling their power units to other teams. For example, McLaren, Williams, and Aston Martin all have Mercedes power units under the hood, while Haas and Alfa Romeo race with a Ferrari engine.
"Pay To Play" drivers
The final form of income that some teams source is from their drivers.
This happens when the driver pays a team to drive for them. This phenomenon only occurs in the smaller teams who do not make as much money from sponsorships or FOM payments and are eager to source additional income.
Fans of the sport do not always approve of this practice, as drivers can "buy" their way into the teams while more deserving drivers are excluded from F1.
An example is Lance Stroll, whose father is currently sponsoring his seat. Nicolas Latifi is also a driver at Williams purely because he is linked to Lavazza Coffee, who sponsors the team.
There was some controversy in 2021 when Russian Nikita Mazepin, a driver for Haas because his dad's company Uralkalil sponsored the team, was asked to leave. All ties to the sponsor were cut because of Russia's invasion of Ukraine.
FAQs
How do F1 drivers earn money?
The drivers have three ways in which they earn money:
Driver salaries
Bonuses
Sponsors
What do F1 teams spend their money on?
Running an F1 team is expensive, and millions of dollars are spent on the following:
Research and development of new cars
Salaries of staff members
Production costs
Team operations
What is the F1 budget cap?
The FIA introduced the budget cap to limit how much teams can spend on their car development during the season. This is to ensure a level playing field for all the teams.
Final Thoughts
A Formula One team may earn millions of dollars each year, but their expenses are also incredibly high, with most teams breaking even after a season.
The budget cap will ensure that cars are more equal in the future, making for more exciting and unpredictable races!
Until then, we can marvel at these cars' power and enjoy surprise wins by less wealthy teams like AlphaTauri or Alpine Racing.
Image from roadandtrack.com